Zendy Talks Affordable Access & Open Access Publishing With ChronosHub
In this webinar, Zendy Co-Founder Kamran Kardan joined an expert panel to discuss current issues and solutions for researchers regarding accessing content and paying for OA publications.
The panel was hosted by Open Access publishing expert Romy Beard, with other guests including researcher and ecosystems ecologist Dr Varun Varma and Plos Strategic Partnerships Director Sara Rouhi. 
Challenges of Open Access
Open publishing is becoming increasingly popular. However, researchers are still experiencing many challenges when they want to access paywalled content such as previous research and archived material.
Similarly, Open Access (OA) publishing can be an unaffordable route for unfunded researchers or researchers whose institutions haven't signed up for any OA agreements, such as NGOs or organisations leveraging research.
Bringing together a range of perspectives, the panel discussed a vast array of topics, including OA agreements, discounts, waivers, technical and cultural barriers, the role and value of publishers that end-users often don't see, and the solutions that companies like Zendy are proposing to support affordability and accessibility.
A Researcher's Perspective
Dr Varun Varma commenced panel discussions by recounting his personal experience as a researcher and the many barriers he has faced in accessing content and publishing his research. After studying in the UK and then moving to a developing country to commence a PhD, Dr Varma felt what he described as his 'first shock' of access when suddenly, his access to journals was 'extremely limited' simply because he was now located in a different region.
Regional-based access limitations are one of the core pillars of inequality that many industry commentators address in conversations about reform. With the signing of the Sustainable Development Goal (SDG) publishers' contract launched in 2020 at the Frankfurt Book Fair, inclusivity and equality within the academic publishing sector are under the spotlight.
The flow-on effect of access limitation in developing regions is far-reaching as it significantly increases the time involved in screening literature. What should take weeks then takes months, and as Dr Varma indicated, the tedious nature of the process leaves researchers with missing references, sometimes making the paper incomplete.
The Publishing Spectrum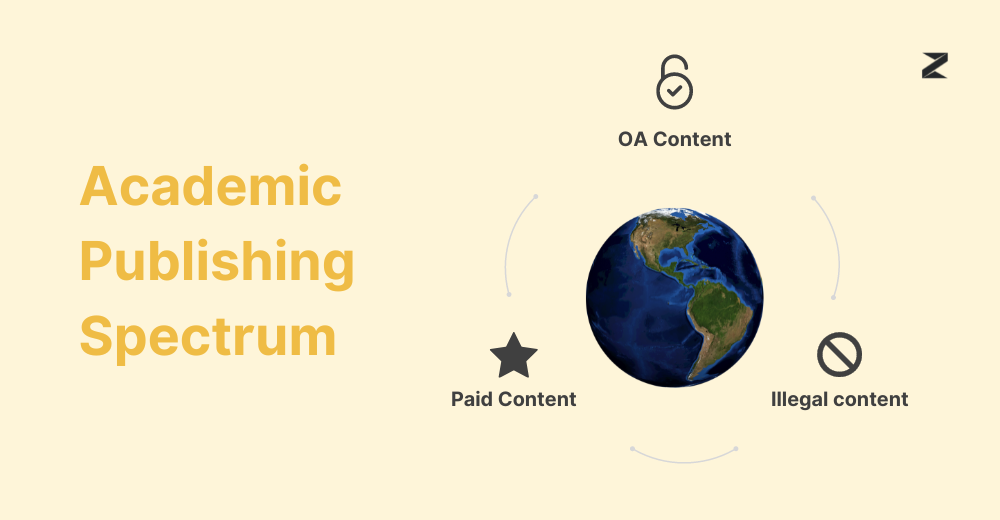 The narrative for academic publishing is shifting rapidly, with many moving elements working in parallel to ultimately address the pain points of the end-user.
Institutions, publishers, organisations, researchers, librarians, and end-users are all key drivers forcing immense movement and excitement across the entire spectrum of academic publishing and content consumption.
Paid content sits at the crux of the spectrum. The major challenges of availability and affordability associated with paid content motivate other players, such as Open Access and illegal content platforms.
While the Open Access movement generates rapid support and participation, its scattered nature makes the content difficult to discover. Each publisher has an element of Open Access, while some are completely open access. This is great news for end-users who need access to new content, but older content is few and far between, making the research process arduous.
The third participant in the publishing spectrum is illegal content publishing platforms. Praised by many for eliminating barriers to access, unlicensed publishing platforms pose a great risk to the future of research. It all comes down to the role of analytics, and the immense need for the data publishers' produce based on usage.
The Economy of Academic Publishing
What is the role of a publisher? This is a question asked time and time again. As journal subscription costs increase and the cost of article processing charges (APCs) weigh heavy on researchers, many people wonder where that money goes. And importantly, how does society benefit?
As PLOS Strategic Partnerships Director, Sara Rouhi and Zendy Co-Founder Kamran Kardan explain, publishers completely absorb the exponential costs of technical infrastructure, analytics, and marketing. Here's why these processes matter:
Infrastructure: hosting and indexing millions upon millions of records is no easy task. The technical infrastructure developed by publishers grants researchers' visibility and ensures end-users find what they are looking for.
Analytics: usage of the vast troves of information in academic databases needs to be measured and analysed to ascertain future research as part of the scholarly process, identify trends in readership, and drive enhancements for better user experience.
Marketing: activities such as social media, author engagement, and press releases are critical tasks for publishers to provide alternative metrics that positively impact researcher citations and downloads.
Sara Rouhi, of PLOS, discussed some of the key-value points of publishers and the incredible costs associated in detail throughout the ChronosHub webinar while highlighting PLOS' approach to making the business of OA equitable. She also detailed, the future of Open Access business models must diversify to survive and account for regional affordability, cost-recovery, reducing author friction, and engaging Read institutions.
Despite this value, it is evident that the paid publishing model is not sustainable, as it hinders the frameworks of inclusivity and equality. As publishers work on their models of diversification, there are many fast movers in the industry offering alternative methods for publishing and access.
The Zendy Movement: Accessibility & Affordability
With so many moving elements within the Open Access and academic publishing domains, Zendy has a clear mission and purpose of addressing the tribulations of all key stakeholders in the conversation.
Since 2019, Zendy has spearheaded a movement to change the dialogue of academic content access, especially in emerging regions where quality content and affordable avenues of access are few and far between.
As a firm believer in empowering communities through knowledge, Zendy CEO Kamran Kardan saw a new way to connect end-users with quality content from top publishers. Instead of hitting paywalls for every piece of content, Zendy Plus was developed as a subscription-based service to reduce end-user costs without compromising access. Zendy users can access unlimited content for the monthly price of a single research paper.
Currently available with a free 7-day trial in the UAE, Saudi Arabia, Bahrain, Jordan, Morocco, Tunisia, and Algeria, Zendy Plus is constantly updated with new research material.
Addressing the global need for access, Zendy offers Zendy Open, a comprehensive open-access library available for free in all regions.
While a relatively new concept, this hybrid user-centric model for affordable access is gaining traction.
For more information about the ChronosHub Webinar, Open Access, Publishing, or Zendy, please don't hesitate to reach out to us: hello@zendy.io.